Photo source: Dave Lawler on flickr.
Introduction
I asked a class of tenth grade students how many of them have a personal brand. A few looked around the room to see who raised their hand. One student did. And that was it.
When I grew up, the Internet did not exist. Back then, personal branding was centered around experiences and achievements and how they combined to form a reputation – you know, tangible things. Today, those things still matter for your personal brand, but so much of that brand is formed online.
Junior Achievement Program
Photo: I visited a tenth grade class at San Mateo High School.
My visit to a tenth grade classroom was part of a Junior Achievement program called JA Career Success.
Junior Achievement is "the world's largest organization dedicated to educating students about workforce readiness, entrepreneurship and financial literacy through experiential, hands-on programs." (learn more: Junior Achievement website)
The JA Career Success program consists of seven sessions. I participated in the seventh session, which is titled "Get Hired: Know Your Personal Brand." The session's objectives, as defined by JA:
Explore how to hunt for a job and the tools needed
Determine choices they can make to create a positive personal brand as they build their careers
Why We All Have a Personal Brand
An informal poll of the classroom determined that every student is on Facebook (although their teacher does not use the service), 15% are on Twitter and everyone has an Apple device at home (iPhone, iPad or iPod). In short, these students grew up with mobile devices connected to the Internet.
So I told the students: if there's one thing you remember from today's program, it's this:
You're online, which means that you already have a personal brand.
In other words: whether you like it or not, the digital footprints you're leaving across the Internet are the embodiment of your personal brand. By being aware and proactive, you can manage that brand. By being reactive and unaware, it gets managed for you.
So let's consider ways in which you can start managing your personal brand. And yes, it's NOT too early to start this in high school, or even middle school.
5 Personal Branding Tips
1) Always Be Mindful of What You're Sharing
Photo source: Dennis Harper on flickr.
I know that high school students will do things that their parents would not approve of (example: throwing a wild party at the house when the parents are away for the weekend).
High school students will have their fun and should continue to do so. But take a moment to ponder before clicking the "submit" or "tweet" button.
Be sensitive to what you share and know that there can be implications and ramifications. If you post something online, accept the fact that it never goes away.
Even if you're careful to limit your posts to particular groups, the fact remains that the post is online. Understand that when you apply for a job as a forty year old, what you posted as a teenager could come back to haunt you.
Here's a good mechanism: when you're ready to post something online, think whether your parent(s) and your teacher would approve. If they wouldn't approve, then don't post it (hat tip to Junior Achievement for this).
2) Pay Attention to Details
When you interview for a job, body language can be far more important than the words you speak. You might have an eloquent and insightful answer, but if you're slouched in your chair and not making eye contact with the interviewer, your answer doesn't really matter.
With personal branding, every little thing matters. Start with your email address. People will need to contact you, whether it's a college admissions officer or a potential employer. Select an email address accordingly. "ilovetoparty" at (gmail dot com) will not curry favor with potential employers.
If you have an unfavorable email address, get a new one to use for college admissions and job applications. Next, have friends and family call your cell phone and listen to your voicemail greeting. Does it say something like: "Yo. Do it now. Over and outtie"? That would make a college admissions officer think twice about your application.
3) Sprinkle in Brand-Appropriate, Proactive Sharing
Photo source: COD Newsroom on flickr.
Yes, you should do some proactive "brand building," even in high school. Some tenth graders will apply to colleges in a few short years. When you apply to a college, the admissions officers will review your social profiles.
Did you recently receive an academic achievement award at school? Have a friend take a picture of you (with your award), then post that to Facebook. This digital footprint can make a difference, when discovered by the admissions officer (hat tip to a parent volunteer, who provided this suggestion).
4) Don't Let Your Inside Voice Get Outside
In other words, keep your posts and status updates positive. We all have our dislikes, whether it's jobs, other people or situations. Think twice before you share those dislikes with the entire world. Social media should not be a venting mechanism.
If you found a new job, but really disliked your previous job, keep your feelings about the previous job on the inside. Negative comments don't play well when viewed by potential employers. And who knows? Things change and the employer you disliked years ago may be one that you return to years later.
5) Advanced Topic: Start Blogging
I started this blog five years ago and it's helped a great deal with my personal brand. I'm able to share thoughts and ideas (with you!) and I consider it an add-on to my resume. In fact, blogs and social profiles (e.g. LinkedIn) are far more relevant than the old-fashioned resume.
One important point, however: figure out a "focus area" for your blog that's tied to the personal brand you'd like to portray.
Your blog should not be an extension of Facebook, in which you share anything and everything going on in your life. Instead, it should be an outlet for you to share thoughts and observations.
Consider what you're most passionate about and start writing about it. If you write well and share interesting things, I'm sure college admissions officers will take note.
Additional Thoughts on Personal Branding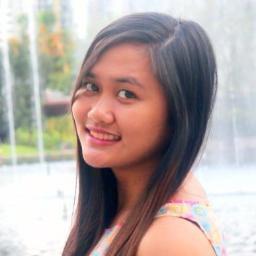 Photo: Jonha Revesencio (@jonharules).
While writing this post, I posed a question on Twitter:
At what age should we start building our personal brand?
Jonha shared the following:
"In a world where technology has helped in facilitating questions, I think there's not really an exact "age" to best build your brand, or as I like to put it, #BrandYOU. I think, though, that it's most essential to "position yourself to be found so you won't have to look around."
That means it's important to provide value even before you ask for one. I've given a presentation before college students about this and my main message is for them to use the time they spend on social networks by building their brand instead of using it for activities which will at some point break it (even before they try to build)."
Conclusion
Thanks for those thoughts, Jonha!
The concept of a personal brand was quite new to the tenth graders I spoke to. And that's a big reason why I wrote this post: to create awareness around the fact that personal branding starts at an early age. Those who get an early start will have an advantage. Start working on your personal brand today.